This is an excerpt from an article that I wrote for AUGIWorld.
When multiple items are selected, it is a common practice to use the Filter option that appears on the Ribbon's Modify/Multi-Select Contextual Tab only when multiple items are selected.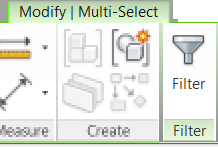 Alternately, one might use a keyboard shortcut such as "FF" to activate the filter.  One may have even noticed that there is a tiny filter symbol at the bottom right of the screen, on the Status Bar.  What is lesser known is that clicking on this symbol will activate the filter command.