I thought I would follow up from the last post with a small little tip.  When the Nudge command is used it looks to the values that are set in the Dimension Snap setting dialog.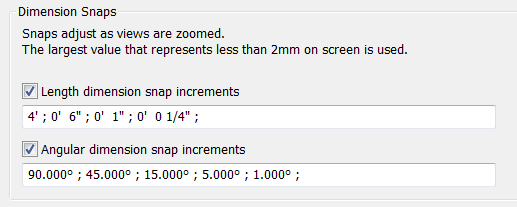 As the description in this dialog box states: When the mouse is moved 2mm on the screen it will snap to the length dimensions that are closest to that zoom resolution, this is also true for the Nudge command.  A little known trick to this dialog box is to adjust it often.  I have heard many times that AutoCAD Architecture or other programs are nice because when inserting doors I can set a desired value and the doors just snap to that distance.

  Revit can do the same if this dialog box is used, Change the 6″ value to say 5″ (127mm) and then start placing doors, they will snap this distance from a desired corner.  I will also change that value to 8″ when  I am working with a brick or masonry wall, now when I model the wall is the correct length.  Of course verify that the temporary dimensions are also set approiately to what you need as well.