Autodesk as released an update for SketchBook Express.  I guess the last update caused a bug so this got fixed in the new update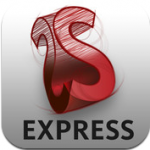 What's New in Version 2.4
✓ Fixed brush performance on new iPad 
For those of you who haven't downloaded this free app here is a description of what it does (Per the app store).
Autodesk SketchBook® Express for iPad is a fun and intuitive drawing application. Get a taste of the SketchBook Pro experience with SketchBook Express.
Use professional-grade tools and brushes to create doodles, quick sketches or artwork on-the-go.
Features:
✓ Full Screen work space with support for any device orientation ✓ Canvas size: 1024 x 768
✓Multi-Touch Interface: • Two finger pan & zoom navigation with 2500% zoom • Three finger tap for controls • Three finger swipe gestures for quick access
✓High Quality Brushes and Tools: • Professional-grade paint engine delivers smooth and precise brush strokes •15 preset brushes, including pencils, pens, markers and Fill Tool •SketchBook Store to purchase brush packs and a selection of Pro features. • Draw styles for creating straight lines, rectangles, and circles • 10 levels of undo and redo (Quick Access: three finger swipe left and right) • Dynamic symmetric drawing
✓Layers: • 3 Layers allowing easy build up of a drawing • Import layers from Photo Library • Duplicate, Merge and Reorder Layers • Move, scale, and rotate layers interactively using Multi-Touch • Toggle visibility and adjust Layer Opacity
✓Text: • Create text with a variety of fonts, colors, sizes and placement.
✓Colors: • Color Wheel with HSB and RBG color space • Eye-dropper color selection
✓Gallery: • Store and view work in progress • Export to Photo Library • Browse images in full-screen mode
✓ iCloud Support ∙ Option to set iCloud as default location to save canvases ∙ Controls in Gallery to upload or download from iCloud
✓Stay Connected: • Built-in SketchBook News panel for live info about Sketching events and announcements
✓ Visual help pages
For those of you using SketchBook Pro keep looking out for SketchBook INK coming out this spring.